Conservation
Plastic in the ocean is just one of many challanges on the horizon
The world is drowning in plastic... The world is in flames... Floods, drought, poverty, ...


Should I care?

The thing is that we all contribute. We all play a certain (although marginal, as it might seem) role in the grand scheme of things, in the great drama that is unveiling in front of us. And yes, you will find your name listed on the "See full cast & crew" link. It's not about the color of our skin nor the color of our passport. And it's not about "them" - it's about "us". If I make a leap and step outside our self-centered illusion and emphatically think of those who are yet to come after us...

Should I do something about it?

Maybe. Do I really, truly understand the challenge? No. Does it matter? Yes. Should I quit school? No, I am too old (did that once, didn't help).

Should I go "Zero Waste"?

No, I can't (hey, I already don't eat meat so that's a plus). Flying is a major concern. Damn, I live in Bali which is like 12K km from my home country (if I want to see my family or friends, someone has to fly). And since I manage a dive center here in Bali, I can't preach to my guests to cut their carbon footprint and just do diving in their local environment (potential bad visibility, uncomfortable temperatures, desaturated colors, marine life... em... what?). For my business that would be like sending a suicide squad from Monty Python's Life of Brian to save the day. And we all know that "business as usual" won't save the (D) day.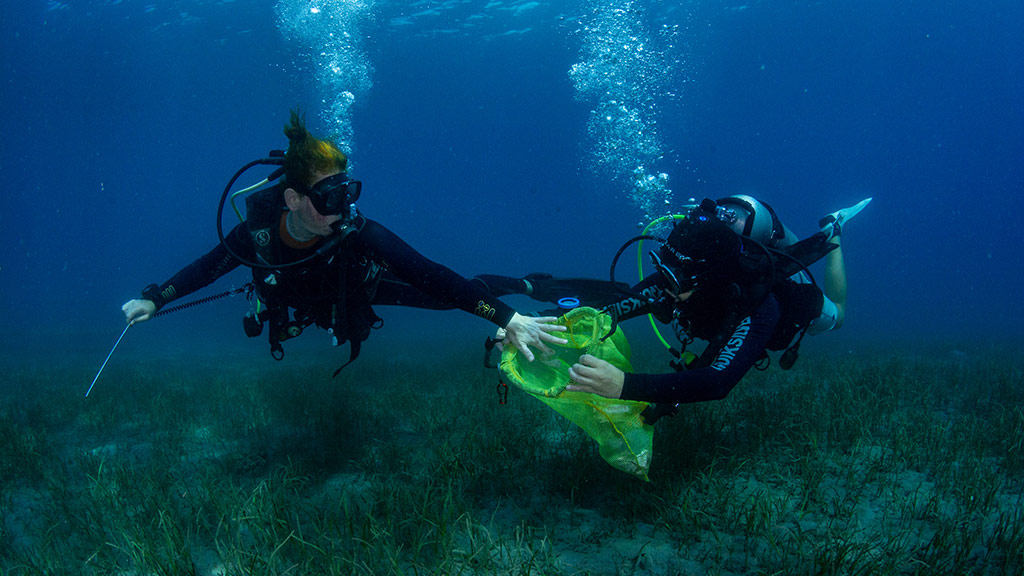 But I'd like to think that we never walk alone. So this means there should be other souls asking themselves the same question. Good. Is it worth it? Yes. If you are traveling around Asia just refuse the plastic bag that they are kindly offering you. If you are not, then just be the change. Be a proud owner of a water bottle. Your actions do count.
And yes, we have the power to make the necessary changes and maybe even break the wheel.
As you've might have guessed, we are not just idly lying somewhere on the beach, sipping coconut and discussing with turtles if the plastic straws in their nostrils would just magically disappear.
Should I mention PADI's Project Aware?
Yes, I should. Should I mention all the people that are involved? Yes, I should. So, my thanks go to Gonzalo for capturing the moments, to Abyss Ocean World for joining forces with us, Easy Divers Bali, and the wonderful community of Pemuteran where all the magic happens.
Our goal is simple: take out more than we produce.