Scuba Diving
Just started scuba diving. I'm so confused.
By Ana Mestek
, Read time: 4 min
When I did my PADI Open Water course, everything that could go wrong went wrong.
Somebody stole my fins on the first day. I lost my group and joined another under the water. I panicked when I tried to clear my mask. I lost my buddy (and myself) during the exam. Everything was pure frustration but I wasn't prepared to give up because I loved water and I was destined to become a scuba diver. I knew it was just a bad couple of days.
So when I started diving, I had a deep respect for the ocean and the fact that I am breathing only because the equipment gives me air. I was terrified of the consequences my (or my buddy's) ignorant decisions might yield.
Diving was hard. There were so many pieces of equipment, all of them crucial.
You had to remember the sequence of a buddy check, to check the depth, air, rate of ascension. You had to make sure to put on your weight belt (how many kilos again?) before your BCD, and a regulator in your mouth before doing a back roll. There we currents, corals to avoid, reckless boat drivers, and weird fish that could attack you out of nowhere just because you were in the wrong place at the right time of the year. (I came to love the triggerfish and I call their nesting season "Adventurous diving season".)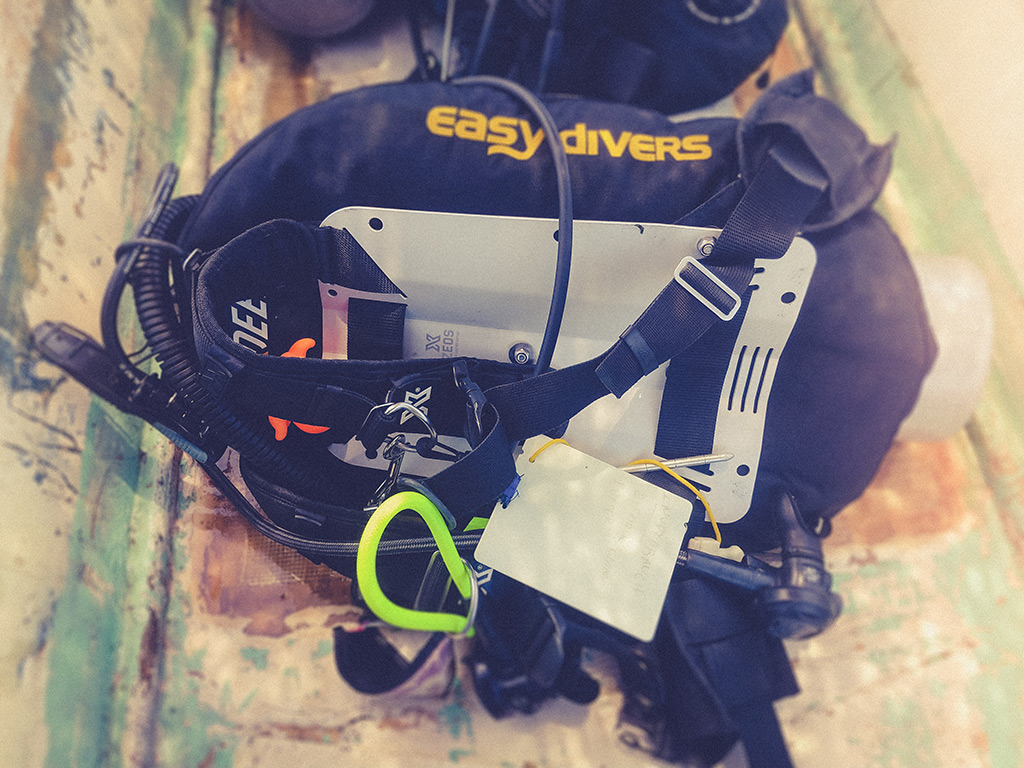 It comes as no surprise then that I became a safety freak. Being a control one as well didn't help one bit. Everything had to be in the right place, everyone at the same depth or I would blow a fuse after.
Then it was the problem of choosing who to dive with when I go to holiday. How do I even judge that they are good? Do I take them on their word? Where is the guarantee I'm not just a number, among many, that's on their list today?
In the vast sea of all the professional-looking websites, everyone is the best.
How do I choose when I still think there's oxygen in my 'bottles' and the no-decompression limit is a brick wall never to be crossed because there be dragons?
I started by choosing dive trips with only few people. I went for small dive centers to make sure I am their only point of focus, and demanded to see their qualifications. I was prepared to pay more for their attention and my safety, and refused to dive altogether if anything smelled fishy (no pun intended). Suspiciously cheap prices and large numbers of divers on a boat were huge red flags.
Slowly, year by year, dive by dive, my knowledge and experience grew, and I was confident I can separate wheat from chaff. I went from OWD to Advanced to Rescue (gosh, that was fun!) to Divemaster, doing them only with the most demanding instructors (who sometimes even gave me nightmares) because I knew they were serious and ... they cared.
The most amazing moment came, when one day I went under like it was nothing.
Like I was lying on the couch watching TV. I feared nothing. My cumulative experience prepared me for the expected and the unexpected. I trusted my buddy, my dive guide, and most of all, myself.
And then I bought a tiny dive center in Bali (to the horror of my mother and my introverted nature. I expect everybody in my team to treat our guests the way I wanted to be treated as a diver.
Occasionally, I still get stinky looks from old divers when I pull their fins because they wandered down to 31 meters when we said 29. But that's how I am, and I guess I always will be. The safety freak lives on, but now it serves to protect others.